April 28, 2016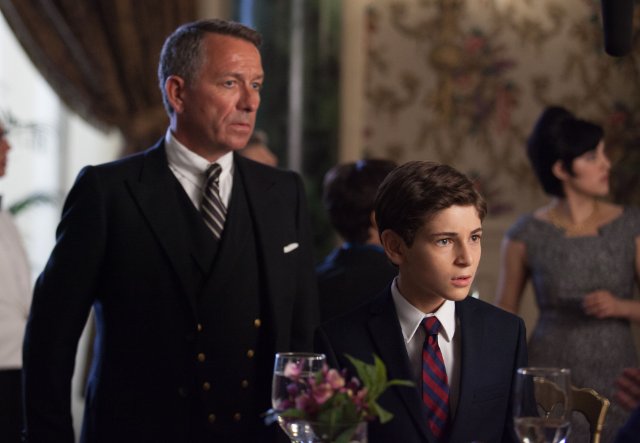 When Bruce Wayne/Batman was introduced to the world 1939's comic, Detective Comics #27, his character proved to be so immediately popular, he was given his own comic book series in 1940. His popularity was so enduring, that he has been portrayed many times on the big and small screens by everyone from Adam West and Michael Keaton to George Clooney and Ben Affleck. Though audiences saw glimpses of Bruce's younger life as an orphan before he would become Batman, most of the action centered on Bruce Wayne as an adult. With FOX's hit show, Gotham, audiences are finally taken into the world of Bruce's life as a teenager. Actor David Mazouz portrays a teenage Bruce Wayne in the show and I recently spoke with David about his experience playing this larger-then-life character.
National Monitor: Why did you want to become an actor?
David Mazouz: A lot of people have a dream and they pursue it. That's not how it happened with me. It's not like I woke up one day and said, 'I want to be a star.' I never had a desire to be an actor. What happened was I was five and my sister was eight so we took [acting] classes every Sunday for three hours and we did it because they were fun. A commercial agent found me and I started auditioning for commercials. Things started to take off and things started coming my way. It's not that I didn't work at it, because I did, but I was very lucky.
Gotham has been renewed for a third season so congratulations on that. I'm sure that was a relief since you never know if a show might get renewed or not.
It was. We got spoiled the first two times. When the pilot was picked up for a first season and when they picked up the second season, those renewals were early. We got spoiled and we were asking, 'why haven't they picked it up yet?'
Since Gotham was picked up for a third season, it's a hit so you have fans. Some of those fans are my nieces (Nicole, Justine, Emily and Payton Wiley) who are very excited that I'm talking to you today. Have you had any interesting fan experiences? Anything to do with superheroes can lend itself to some diehard fans.
I have been to five or six conventions now. Nothing specifically sticks out, but when you go to those conventions, you come across some odd people. Sean [Pertwee], who plays Alfred, and I have a joke. When you meet some of these people, they're very sweaty when you shake their hand or when they try to give you a hug. It can be like jumping in a pool so we call them butter hands. I have a little dog named Starlet that stays with us in New York. I live in L.A. but we shoot in New York so I bring Starlet with me to conventions since no one can watch her in New York so she's in a lot of photo ops.
How different is the show from when you shoot it to when you actually get to watch it?
I would say like 70% of the time, I'm surprised at how it looks. It just looks different that how I imagined. Since I'm not in every scene, I'm like the audience in that I don't know what's going to happen all the time since I wasn't there so see how a scene played out. There have been times where I've read the script and am just like, 'wow,' when I see it on the screen.
Speaking of my nieces, they wanted me to ask you, if you were really Batman/Bruce Wayne, what would you like to do?
Hmm. Good question. His whole purpose is he fights for justice and I think that's a great goal. There are so many causes in the world to fight for. I don't have a lot of time between school and work, so I haven't volunteered recently. Hopefully I'll have some time on my hiatus, which unfortunately, is very short.
I know you're in high school and hopefully Gotham runs for many more seasons, but after high school and/or after Gotham, what do you see yourself doing?
Going to college definitely. I want to stay in the industry, but I'm really taking it one step at a time.
I know you can't give too much away any spoilers but can you give fans of Gotham a hint of what's to come for the last few episodes of Season 2?
Crazy stuff is going to happen. A new "bad" will be introduced. That last few episodes will focus on bringing that big bad down. The great thing about this entity – it's not really a person – it's really interesting and you never really find out exactly what it is. It controls so much and will suck every single character into it. All of the good guys will have to be united to take it down. Bruce will definitely be very involved. In Operation Good Guy, which is what Sean likes to call it, Bruce, Alfred, Lucius, Gordon and every single good guy on the show will have to unite together. Every script just got better and better. I haven't seen the shows since I see them when they air, but I'm sure they will be phenomenal.
Finally, what advice do you have for your fellow teenagers out there about pursuing their dreams?
Persistence is the key. Especially in this business, but in anything, you're going to get rejected. You're going to get knocked down and it's going to hurt. Some people tend to take it personally but for the most part, it's not. 99.9999% of the things you audition for, you don't get. Being rejected becomes the norm and some people quit. If you have a dream and you want to pursue it, do it and don't give up.
Gotham airs Monday nights on FOX. The Season 2 finale is May 23rd.
This article originally was posted on National Monitor.
Like This Post? ... Then Like Our Page :)